The mattress has a far greater role in our life than the credit we give it. A mattress is often the precursor to how we sleep, whether we give our body a full rest or not and more. They make a major part of our sleep and rest rhythm in life.  The mattress comes in a variety of sizes and types. There are a single-sized mattress or a double one. Or if we are to go big, then the king or the queen type ones. Mattress size matters just like the mattress type
Mattress Size Chart – Twin Single Queen King
There is often quite a debate going on about the mattress size around us. Most of the companies come along with their own set of an idea for the size of the mattress. But if we are to see approximately, there does seem to be a standard accepted size for a mattress.  We here have sought data from a host of mattress experts and have lined up the different size and dimensions for the bed. Read along as we seek along with it.
1) Bunk Bed Mattress Size

Bunk bed mattress is the ones which are normally used along within the kids' room. These beds are stacked one above the other along with a ladder fixed on one side of the bed so as to reach the top bed. These beds are best for places where room space might be less and an optimum choice is required.
Dimensions for Bunk Bed mattress – 39 x 75 inches.
2) Single or Twin Bed Mattress Size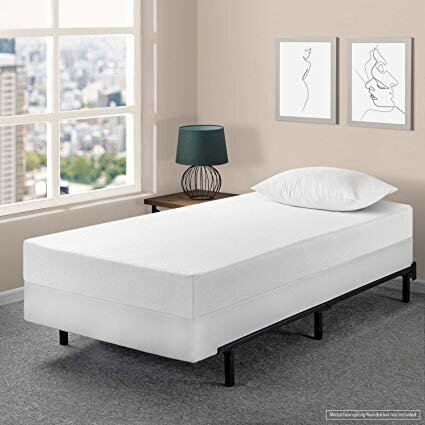 Single bed mattress is generally used along if there's only one occupant. A perfect option for the bachelors or the kids or even for the guest rooms. These suit well for the smaller rooms or narrower options. These are often one of the most sold-out ones are just a tad smaller in width when it comes to comparison with the bunker bed mattress.
Dimension for Single or Twin Bed mattress- 36 x 75 inches
Though you can also find a few mattresses which are extra-long and comes with a bit of extra dimension that above one. These are most preferably used by tall teenagers or adults who prefer extra length.
Dimensions for longer Single or Twin Bed mattress- 39 x 80 inches
3) Double or Full Bed Mattress Size
Judging by the name, this may seem that double means a whopping double than the single-sized mattress. But actually, that isn't the case. This one is a one and half times of that single bed and is suitable for the mother and a kid or for a mother with a newborn baby as they require a bit of space. This mattress may seem short for a couple of adults though.
Dimensions for Double or Full Bed Mattress – 54 x 75 inches
4) Queen Size Bed Mattress Size

Queen size mattress often the ones we fantasize about the most is a larger bed mattress than the double bed and are the perfect option for the master bedrooms and more. It is also a perfect option for couples and usually takes up a smaller space. So if you're looking at something for your master bedroom, then go for this one.
Dimension for Queen Size Bed Mattress – 60 x 78 inches
5) King Size Bed Mattress Size

King size mattress is one of the best ones. Suitable for the best of the lot, these are the major part of the bigger master bedrooms and are used along. These are used along for its larger width and spacious feel. It generally comes around in two variants as Eastern king bed and the California King Bed (also known by as Western King Bed). Both of these have a slight difference in dimensions. check out King Size Bed Dimensions
Dimension for Eastern King Size Mattress – 76 x 80 inches
Dimension for Western King Size Mattress – 72 x 85 inches
Tips For Choosing The Right Mattress Size
We often falter when it comes to choosing the mattress size. There are many of us who when it comes to mattress get to know everything about it from the material to the type but size is one conundrum which hasn't been solved by many. But guess what, that shouldn't be an issue as we will help you along with a guide on how to choose the right mattress size for you and your family. Read along
1) Know your bedroom dimensions
It's important that you know your bedroom dimensions right. Because that's where most of us tend to go wrong. Bedroom dimensions provide a measure of the size of the mattress befitting the room.
Take a tape measure and use it to measure the dimensions of the room, the length and the breadth of it. Also, measure the door frame as that is where you'll need to get your mattress inside your room. Also, measure in the potential bed space so as to get a clearer idea. That'd give you an idea on the best size of mattress for your bedroom.
2) Imagine Different Bed Sizes in Your Room
Imagination lets the door open to different avenues than we know. It helps to find the idea of what sized mattress would suit the best. The mattress comes in different shape and size and having a one that fits your room is the most hectic of tasks.
Imagine having different bed sizes in your room. Imagine the single or double ones, or the king or queen ones. Does it affect the room space, does it make it cramped? Does the mattress affect the activities in your room like reading and walking around? Imagine it all.
Read Also: Top 10 Best Mattress Reviews, Price & Buying Guide
3) Think of the Future
It's often said that one should always plan with an eye to the future. Our present activities give way to how we perform in the future. You may want to upgrade your bedroom or your house in the future. You may want to upgrade your mattress. Think of all of it. Think of what sized mattress would fit best in the present and future scenario.
4) A Bigger Bed or More Living Space? 
This is one thing that comes up while going for the mattress. Are you looking for a bigger bed or for something that will give you a more living space in the house? After all you need to organize your bedroom if you want to have a good bit of well-placed room structure. And the organization starts from the very first step, a bigger bed or more living space. Think of it and plan it well.
Mattress size is vital when it comes to having proper rest and sleep. And these are often the margins that decide whether we have a proper home best matched with our mattress size or not. We hope this post helped you out in selecting the best mattress size for you.
Sumi Memon is the author of the content that you will find on this website. I have worked in the mattress manufacturing industry for many years, and I was leading the research and development wing of one of the most popular mattress brand in the market. I decided to use my knowledge to help the people in choosing the right mattress for themselves. This is the time when the idea struck me to start a fair and transparent blog that will educate people about their unstated needs.
After working for many years in the industry, I realized that a lot of people are not aware of the type of mattress that they should be using. With my experience, I compile the lists, reviews, and buying guides on this website, and I am sure that you can use my knowledge for your benefit. You can go ahead and explore the various sections of my website, and I promise you an experience that will enhance your lifestyle and health.